IPH Mist Suppression are focused to providing an efficient, effective and discreet fire suppression system for all commercial properties. As such, we are delighted to be recognised as an approved installer of the Ultra Fog water mist fire suppression system.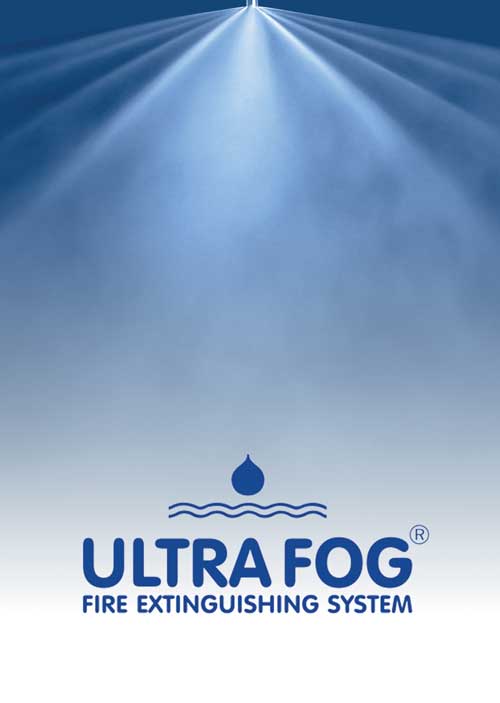 Protecting People + Property
Ultra Fog's reliable, fast acting extinguishing system protects buildings, people and businesses from the devastating effect of fire.
Optimal Suppression
No.1 for the Commercial Property Sector
Ultra Fog's commercial water mist system provides robust, effective, quality engineered solutions for applications which require optimal fire suppression while minimising the volume of water consumed and deployed.
Our commercial water mist systems are suitable for:
-HOTELS
-HOSPITALS
-SCHOOLS
-NURSING HOMES
-CULTURAL HERITAGE
-DATA CENTRES
-OFFICE BUILDINGS
-SHOPPING MALLS
-POWER PLANTS
– and much more…

Demistyfying
What is a Water Mist System?
Our commercial water mist system is a fire protection system which uses very fine water sprays (i.e. water mist)?
An activated system will create a blanket of water mist droplets that maximise heat absorption from the fire and subsequently displacing oxygen upon evaporation and expansion of the water mist as it converts to steam.
Water mist systems are differentiated from sprinkler systems by mist's unique ability to present a much greater water surface area (enabling rapid heat absorption), combined with the mist's ability to remain suspended in the air for a much longer duration – thereby creating more exposure time for the heat absorption to take effect. This enables water mist systems to cool and suppress fire using considerably less water than sprinkler systems.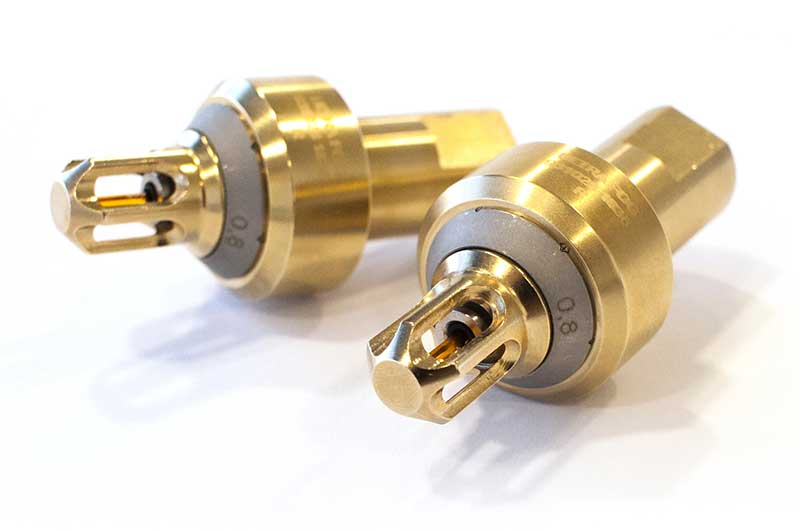 Our commercial water mist nozzles come in all shapes and sizes to suit any and all applications… they even come in gold.
the making of a…
Commercial Water Mist System
The IPH custom built Commercial Water Mist System is made up of 3 primary components:
DESIGN | INSTALL | SERVICE
IPH Mist Suppression are delighted to be an approved partner of Ultra Fog®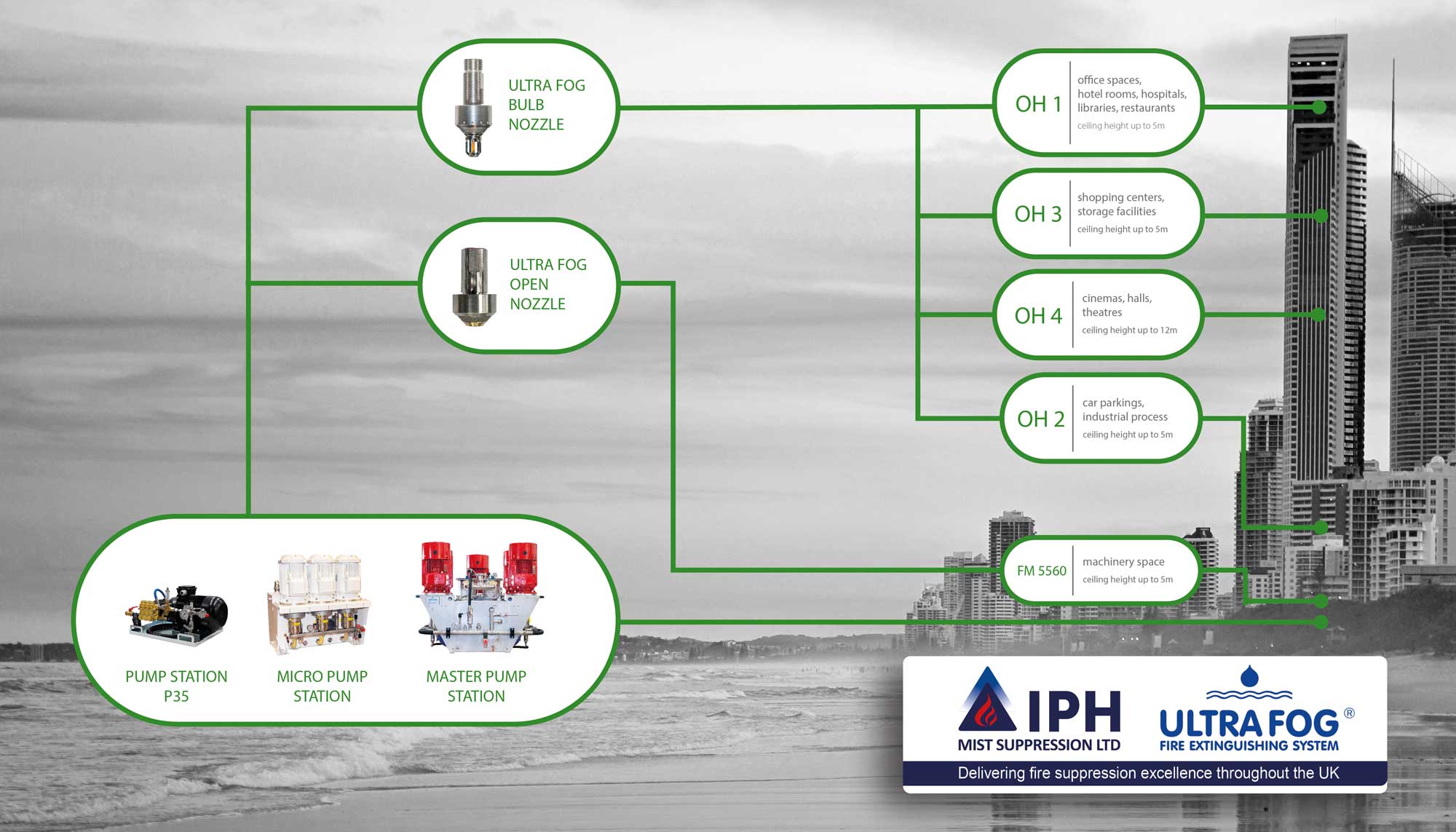 Pump Stations
The pump sets are all created individually, for each and every project as each client's requirement is unique and bespoke to them.
Custom Nozzles
High pressure pumps force water through the stainless-steel Ultra Fog water mist bulb or open ended nozzles, discharging the water in the form of millions of tiny droplets – typically 30 – 200 µm diameter.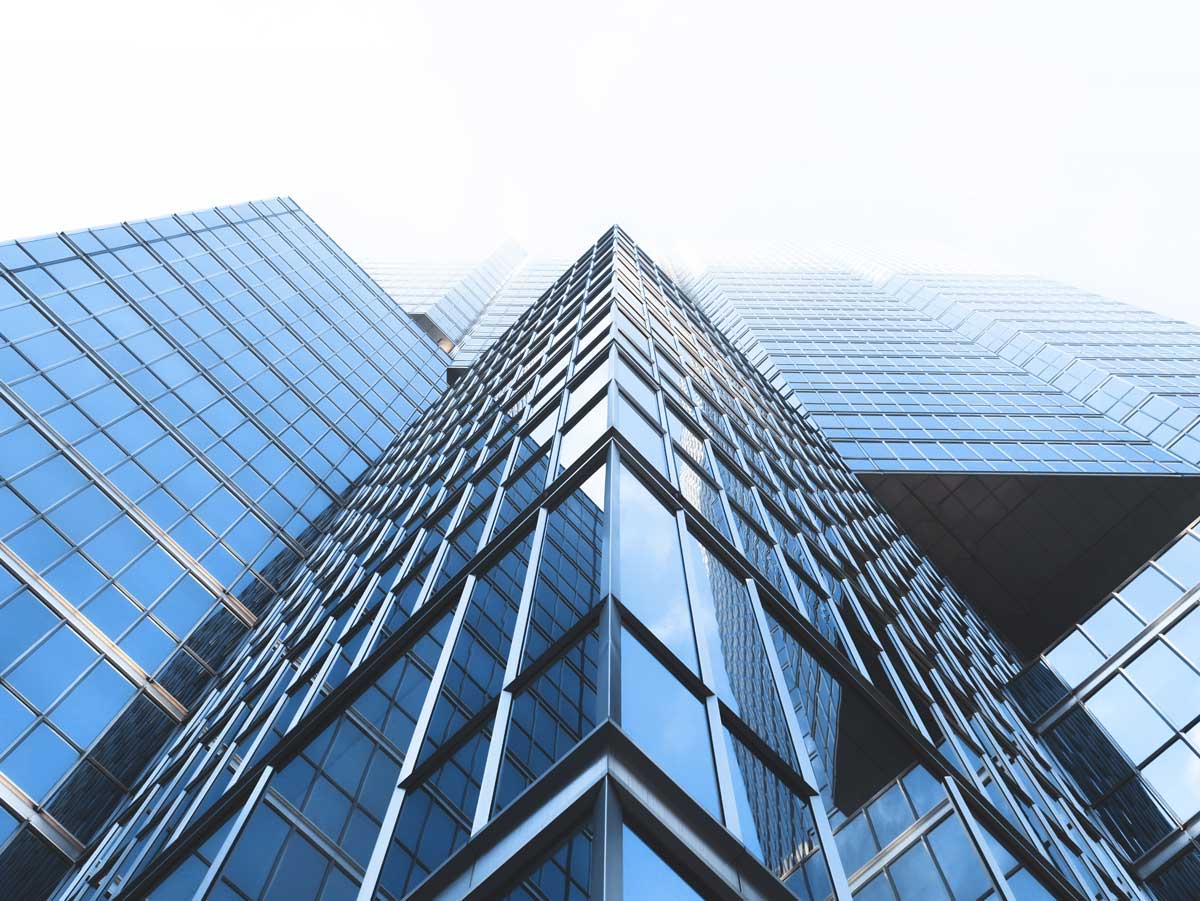 Commerciality
More Space for you to MAKE Money
The Ultra Fog® water mist system takes up very little space, allowing you to use the space saved for money generating activities.
There are many advantages in choosing the Ultra Fog® water mist system for high rise buildings. Besides efficient firefighting, giving the best possible protection, it gives you the freedom to design your building just as you want. There is now:
No need to place a large reservoir/swimming pool on top of the building; you can instead use the top floor for penthouse flats.
No need for sprinkler units on more floors of the building to prevent pressure loss; the space saved can be used for other money generating purposes.
No need for large water supply reservoir or for reservoirs to catch the water used by the system; the space saved can be used for an integral garage, for example.
Residential

+ Commercial
Fighting Fires in 3 Ways
The efficiency of the system is in the water mist micro-droplets that fight the fire in three ways:
Cooling the space - 1
Attenuating radiant heat - 2
Displacing the oxygen that reaches the fire - 3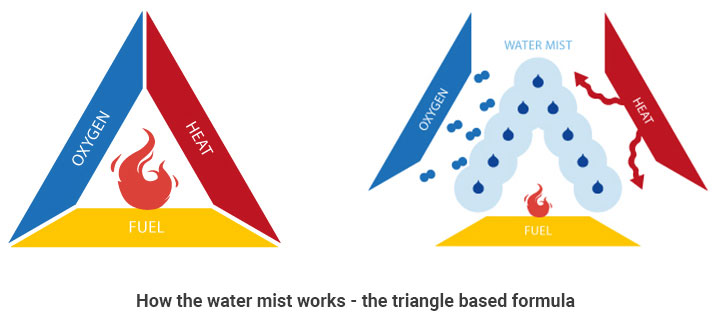 Maintenance
We provide a Service + Support Programme
We will always keep your system in optimal working condition.
Annual service: 17-step function procedure inspection and filter exchange.
Every 5 years: Exchange foam, check the section valve inserts and batteries.
Every 10 years: Exchange the bottles from accumulation pack and high-pressure hoses.
With the proper care and maintenance, IPH Mist Suppression offers protection at all times, even within the most demanding environments. We provide servicing and maintenance for your water mist sprinkler system, given by our trained engineers, to ensure the water mist system's long-term reliability.
Contact IPH Mist Suppression for maintenance, spare parts, or a new service contract.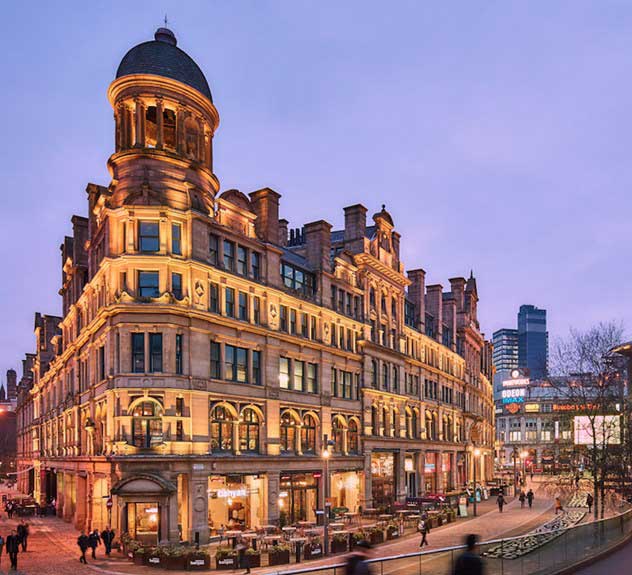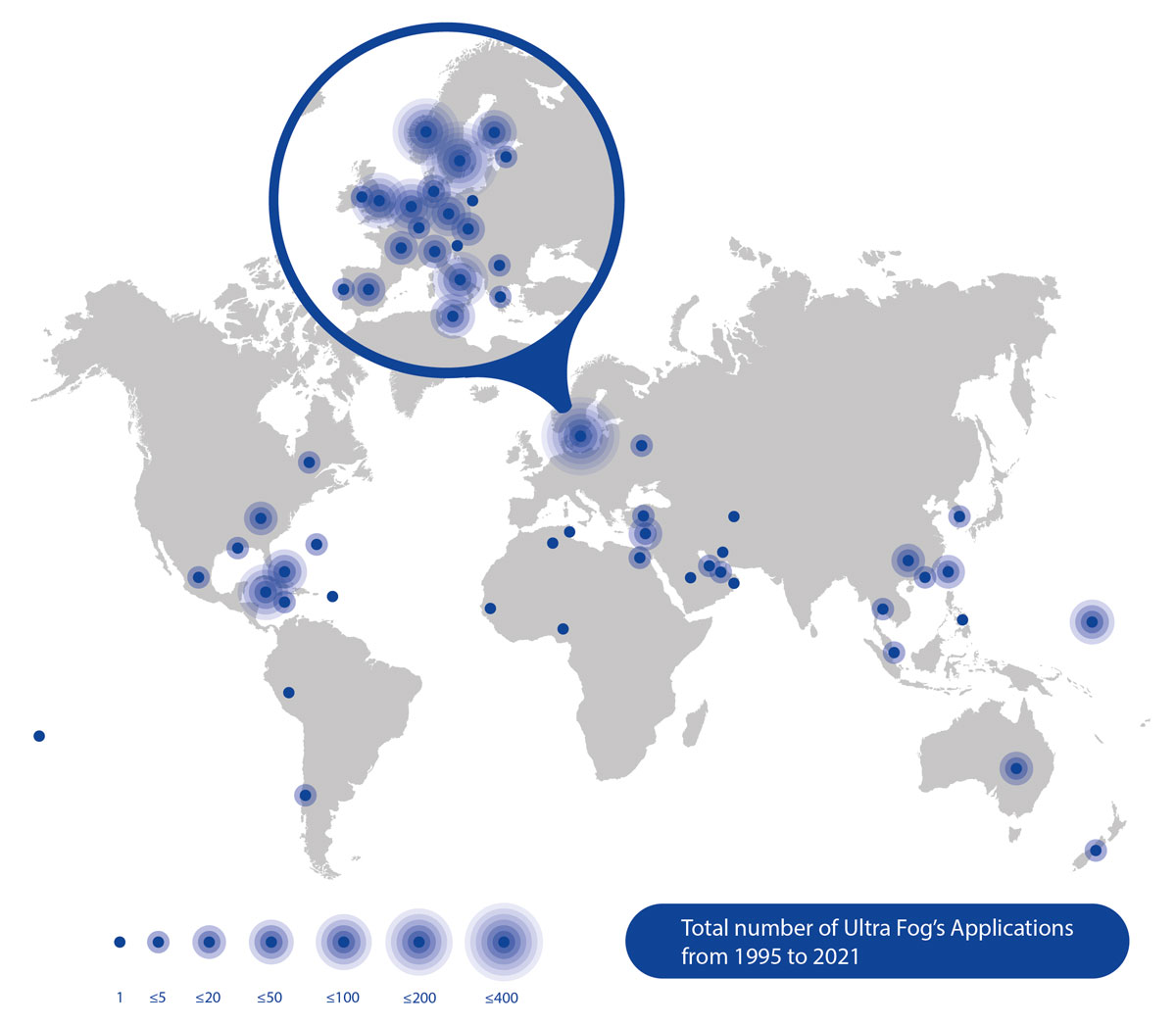 Water Mist
Unique Selling Points
Custom designed, efficiently engineered, high quality manufactured fire suppression systems and …
Highly effective fire system with fast response, which is easy to be put back into service.
Rapid expansion of water droplets reduces the oxygen in the fire zone.
Environmentally friendly, safe for people and highly reliable for customers.
Aesthetically pleasing nozzles that can be painted in any colour the customer prefers.
Risk of flashover is substantially decreased or reduced to zero.
Small stainless steel pipe dimensions result in less weight, easy installation, and pipe networks that are simple to conceal.
Reduced downtime and clean-up costs following a fire event.
The only water mist system that can be tested while in service using Ultra Fog's patented test tool.

Maximum Suppression
Minimal Water Damage
Our Ultra Fog commercial water mist system provides ultimate protection for an extensive range of applications.
How does it work? High-pressure pumps force water through the stainless-steel Ultra Fog water mist nozzles, discharging the water in the form of millions of tiny droplets – typically 30 – 200 μm diameter.
Water Mist System
Speak to the Specialists
Are you looking for the right fire suppression system for your Commercial Property?
Use our quick contact form, upload any floor plans you may have and we'll swiftly be in touch with your free design and commercial quote.