Ministers have announced a major overhaul of building regulations in an effort to boost fire safety in the wake of the Grenfell Tower disaster.
Housing developers will be forced to include sprinkler or water mist systems and better safety signage in their properties in a bid to protect residents, under new plans announced by Housing Secretary Robert Jenrick.
The measures, which will apply to all new builds over 11 metres, come as part of a wider government initiative to improve fire safety following the Grenfell Tower fire which saw 72 people lose their lives.
In February, Chancellor Rishi Sunak used his first Budget to announce a new £1bn fund to remove dangerous cladding from all private and social housing tower blocks across the UK.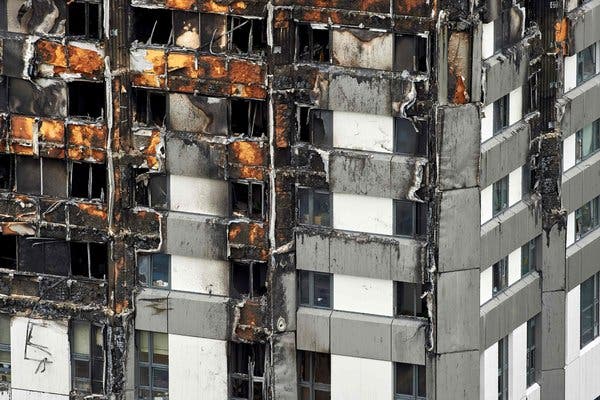 Meanwhile, ministers have also pledged to name and shame housing developers who are slow to comply with the order to replace flammable cladding on their buildings.
Announcing the latest measures, Mr Jenrick said:
"The government is bring about the biggest change in building safety for a generation.
This new regime will put residents' safety at its heart, and follows the announcement of the unprecedented £1 billion fund for removing unsafe cladding from high-rise buildings in the Budget.
Today we are also announcing that the housing industry is designing a website so lender and leaseholders can access the information needed to proceed with sales and remortgaging, and the government stands ready to ensure this work is completed at pace."
Mr Jenrick said he understood the impact of coronavirus had made it a "difficult time" for construction firms, but insisted the removal of dangerous cladding was a "top priority" as he urged work to continue.
Responding to the announcement, Lord Porter, the Local Government Association's building safety spokesman, urged ministers to go further and fund retrofitting of sprinklers or water mist systems in existing tower blocks, commenting.
"The Government's announcement that the remediation of cladding remains a top priority is positive news, and industry and duty-holders now need to step up and deliver the work required…
Residents of existing blocks deserve the same safety standards as those in new buildings, and the Government should fund the retrofitting of sprinklers in existing blocks of flats once the current crisis is over."